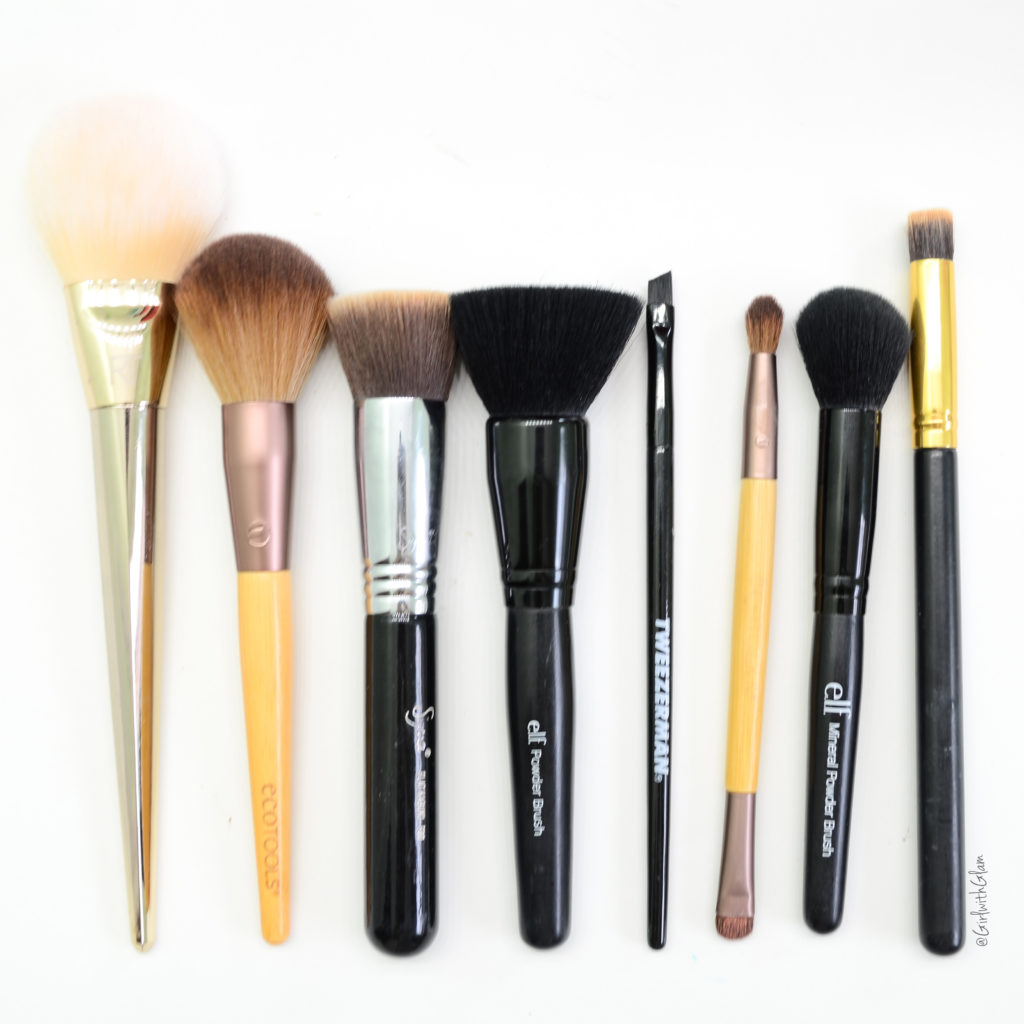 When I first started getting into makeup around two years ago, I thought the most important thing to getting an impeccable look was the quality of the makeup you were using. I would get frustrated sometimes because my bronzer looked muddy or my eyeshadow wouldn't blend out as nicely as I saw on Youtube or on some of the images I saw online. I kept thinking if I buy more expensive products than they would blend and apply better but even after buying several products by well known brands like Urban Decay and Kat Von D, I still wasn't getting the results I wanted. Sure, some of it was human error since I had just started I didn't know important key things like the angle my brush should be tilted at or what a transition shade was; however, I did come to realize makeup is 50% makeup quality and 50% makeup tools. I eventually stopped being hardheaded and invested into some brushes and over time I found some of the brushes that are my go-to's. These brushes all vary in price from $3 to $25 yet they are my most used and they're never left behind when I travel!
The brushes will be listed in the same order as the picture above from left to right. I'll be going into detail about why I like them, what I use them for and even some cheaper alternatives for some of them.
Real Techniques Bold Metals 100 Arched Powder Brush: This brush is marked as a powder brush but I use this brush primarily to apply blush. It's fluffy enough that it distributes the product evenly and doesn't pick up too much product at a time. Its oval shape allows you to cover more surface area of your skin which is great because the blush applied to the skin won't be concentrated on just one area like the apples of your cheeks, unlike other brushes. I personally like a very natural flush of color and that's why I really like using this brush.
EcoTools Large Powder Brush: I also use this brush for applying blush and therefore to me, this brush is a cheaper alternative to the brush above by Real Techniques. You might think, what Alejandra are you sure, they're completely different in shape?! But yes, since this brush is fluffy the blush applies in very similar manner too. The only slight difference with using this brush is that since it is round you don't cover as much surface area as the Real Techniques brush so you do have to blend further up your cheek.
Sigma F80 Flat Top Kabuki Brush: When I apply my liquid foundation I want an even application and I want a good medium to full coverage. This brush is so densely packed that the bristles don't really absorb your foundation but rather push it into the skin. This style of application allows for higher coverage so all those pesky spots that usually peak through when you use your beauty blender are actually gone! I've noticed that when I use this brush I like to do a buffing motion which helps prevent any "cake" face. In addition, I notice that I use up less foundation when I use this brush than when I use a beauty blender.
e.l.f. Powder Brush: My cheaper alternative to the Sigma F80 is this brush. e.l.f. says it's used for powder but I never use it for anything other than liquid foundation application. The bristles on this brush aren't as tightly packed as the Sigma F80 by any means but it has a long diameter so you cover more area…yes, I am using math terms to talk about makeup. The only downside is that you get less coverage so you do have to go in a second time to really make sure those spots are completely covered. Even with the second layer of foundation my makeup never looks cakey thanks to the flat top shape and buffing motions.
Overall, all these brushes have soft bristles, glide well on the skin, and as explained above are fantastic. Hopefully you found a brush that may help you with a certain step in your makeup routine. If you have any favorite brushes that I didn't mention and think I should check out comment down below. Until next time, peace out!