*This post is sponsored by Clarisonic and HerCampus Media. All opinions are my own.*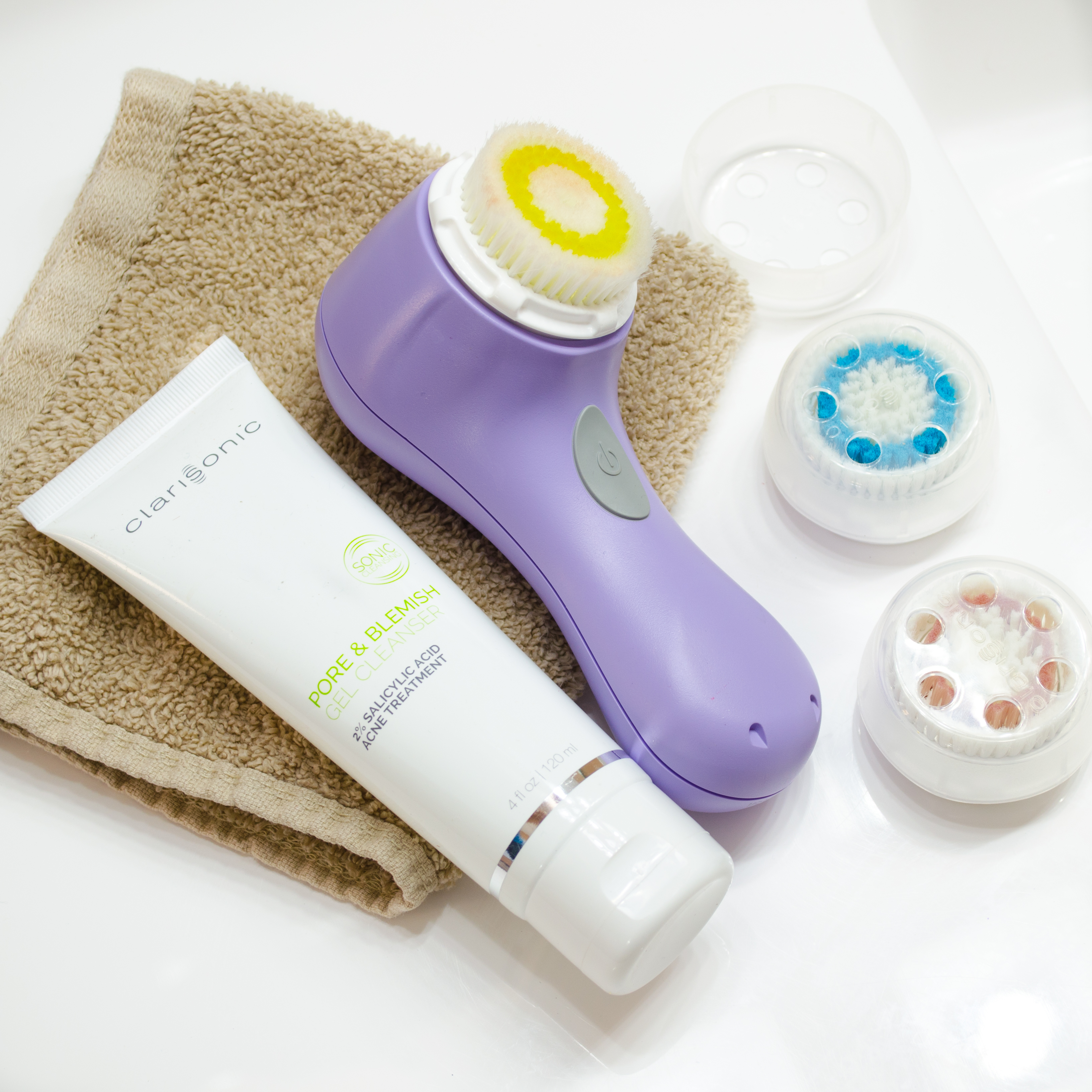 Ever since I found out what a Clarisonic was I had been dying to try it. I was actually given the opportunity to work with Clarisonic on this post and was given a complimentary Mia 1 along with some other accessories. In the past, I've shared a few of my skincare favorites and in this post I'll be sharing my steps for flawless skin during the fall months.
Let me start off by explaining what the Mia 1 does in case you're unaware! It is an electronic cleansing brush that moves back and forth to help sonic cleanse your skin. It's as easy as pouring your favorite cleanser onto the brush, pressing the power button once and the brush starts to move! Sonic cleansing helps remove any impurities from your skin that can cause breakouts, which we all want to avoid, or at least I do. Since Clarisonic devices sonic cleanse and don't exfoliate, you can use it twice daily with your morning and night cleanser. The Mia 1 has one speed; however, it is safe for all skin types so don't worry if you have sensitive skin.
The Mia 1 comes with the Radiance Brush Head which is ideal for almost all skin types. Clarisonic sent over two additional brush heads: the Deep Pore Brush Head and the Acne Brush Head. The Deep Pore Brush Head is mainly for removing oil and impurities that typically clog your pores. I like this brush head for my night time routine because after a long day of wearing makeup my pores need some unclogging. The Acne Brush Head is targeted towards those who have sensitive and oily skin that are more acne-prone. If I'm having a bad flair up of acne, which happens sometimes during that wonderful time of the month, I switch to this brush to help those areas. Otherwise, I normally use the Radiance Brush Head for my morning routine.
So what's my normal fall skincare routine? First thing in the morning I wet my face and my Mia 1's brush head. I alternate between C.O. Bigelow Deluxe Gentle Cleanser No. 904
 and CeraVe's Hydrating Facial Cleanser. I put a dime size amount of the cleanser onto my Mia 1 and start sonic cleansing. I follow the time limit listed for each area of the face that came in my Mia 1 informational book. Then I rinse my face and go in with my moisturizer and SPF. I've been using Avon's NutraEffects Radiance Day Cream with SPF 20,which is a moisturizer with sunscreen already included. If I don't use the Avon moisturizer, I use Vichy Capital Soleil SPF 60 Soft Sheer Sunscreen Lotion and then apply The Better Skin Co. Better Skin Mirakle Cream. So that's basically my whole morning prep before my makeup application.
My nighttime routine consists of removing all my makeup with Neutrogena Makeup Remover Wipes or Simple Cleansing Wipes. After, I go in with my Mia 1 but this time I'm using the Deep Pore Brush Head. I typically use the new Clarisonic Pore & Blemish Gel Cleanser when I have active acne breakouts. This cleanser contains 2% Salicylic Acid which is a common ingredient to fight acne. Otherwise I would use the same cleansers I mentioned previously. Next I apply Vichy Mineral 89, Algenist GENIUS Liquid Collagen
, June Jacobs Revitalizing Eye Gel, and The Better Skin Co. Better Skin Mirakle Cream.
There you have it, my foolproof fall skincare routine! Hope you all enjoyed it and I have a special gift for you all. Right now you can save 15% off all devices featured at Clarisonic by using the code: HERCAMPUS. Take advantage if you need a new device! Oh, and Clarisonic offers monthly payment plans upon credit approval which is great for those of you who prefer small payments. Until next time, peace out!