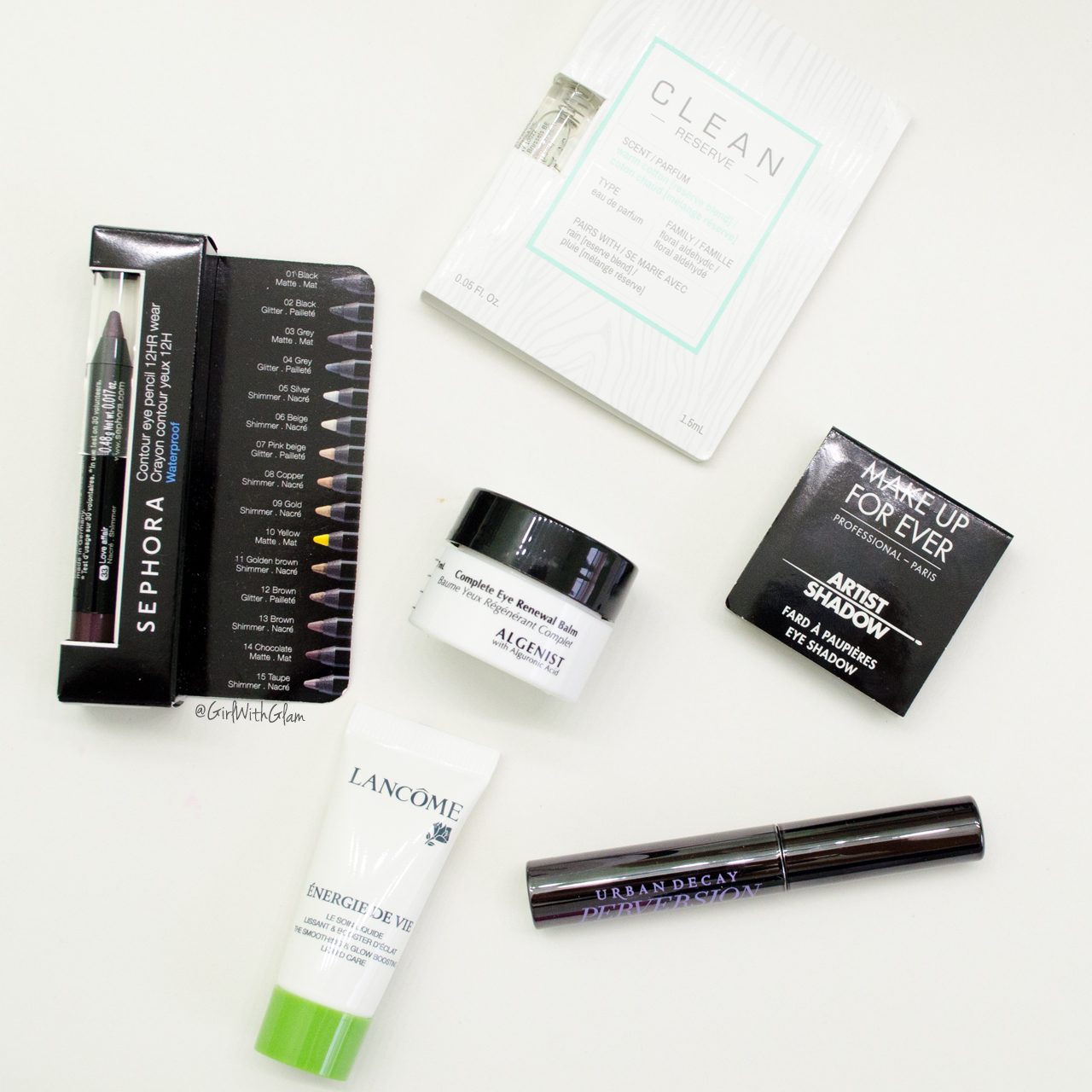 Items in this months's Sephora Play Box are the following:
Make Up For Ever Artist Shadow in I-544
Clean Reserve Warm Cotton Perfume
Algenist Complete Eye Renewal Balm
Urban Decay Perversion Mascara
Lancôme Énergie De Vie Smoothing & Glowing Liquid Moisturizer
Sephora Collection Contour Eye Pencil 12hr Wear Waterproof in Love Affair
The only item from this box that I have previously sampled is the Urban Decay Perversion mascara. The mascara wand is really fluffy and comes out of the tube with a lot of product. I felt that the formula was wet and would cause a bit of clumping on my lashes. In addition, the huge con about this mascara was that the stopper inside the tube would never stop excess product from coming out of the tube. Every single time I would take the wand out and put it back in a lot of product would accumulate on the rim. Basically I was losing lots of mascara and I always had to wipe off the tube's rim so that I wouldn't get mascara on my hands. I'm not sure if the full size of this mascara does the same thing, hopefully not, but this alone would make me not want to use the mascara even though the end result on my lashes was pretty decent. I didn't experience any smudging or flaking so at least that's on the plus side.
After swatching the Sephora eyeliner on my hand, I noticed that the product set rather quickly and after when I tried to smudge it the liner would not budge. It seems this eyeliner might actually be waterproof and last a long time! I wish they would've sent a different color than Love Affair since it seems most subscription boxes tend to lean towards purple eyeliners. I would've much more preferred a color like yellow,  a color we don't normally gravitate to.
I'm excited to try the Make Up For Ever eyeshadow since I've read excellent reviews about them; however, I don't feel quite as thrilled for the rest of the items. I'm definitely going to give the Algenist eye cream a try since I've been thinking about getting a good eye cream to help keep my under eye hydrated and prevent aging in the future. There were two variations of this box, one included the Lancôme moisturizer meanwhile the other contained the Caudalie Resveratrol Lift Eye Lifting Balm. Neither of these products appealed to me so I might be passing along the moisturizer especially since I just found my holy grail night time moisturizer, the Ole Henriksen Sheer Transformation.
Until next time, peace out!