Jordana has recently released a new liquid eyeshadow in six colors. I bought mine from Kmart after searching through messy buckets of opened clearance makeup even though these were not on sale and thankfully were still sealed. Jordana claims that these eyeshadows are creamy, crease-proof, water-resistant, and blendable.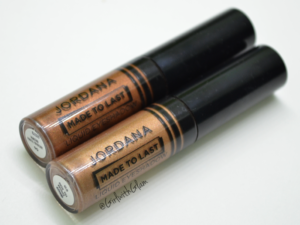 I decided I would give these a thorough testing by applying Too Faced Shadow Insurance primer to only one eye. I only used the Jordana eyeshadow for this look in order to give a fair review for its longevity and quality. I applied the shadow using the applicator included and applied it to both eyes in a thin layer. I allowed the eyeshadow to dry and then blended it up into the crease using my Sigma E40 brush. I noticed that as I blended the shadow into the crease there was some shimmer fallout on my cheeks. This product is in my opinion like a liquid to powder formula. Below are pictures how the shadow looked freshly applied and how it progressed throughout the day.
As you can see the shadow lasted 14 hours on my lids without any creasing; however, the color payoff did fade a bit as expected and the left eye with primer actually held up slightly better. I noticed after a few more days of testing that if I applied thicker layers of product to my lids, the shadow would crease after 6 hrs of wear so I recommend only applying thin coats. In addition, I tried using powder shadows with this Jordana liquid eyeshadow and they blended together perfectly without coming off or fading. Overall, I think this is a great product especially for its easy and fast application. Anyone can pick this product up and within five minutes be out the door with a lovely eyelook that will last all day.
Here are swatches of the two colors I picked up:
So which claims did these shadows actually live up to? Being blendable, creamy, and being crease-proof only if you use thin layers. The shadows weren't water resistant because as soon as they got wet the shadows started to come off completely especially all the shimmer particles. Total 3/4 claims, not bad at all!