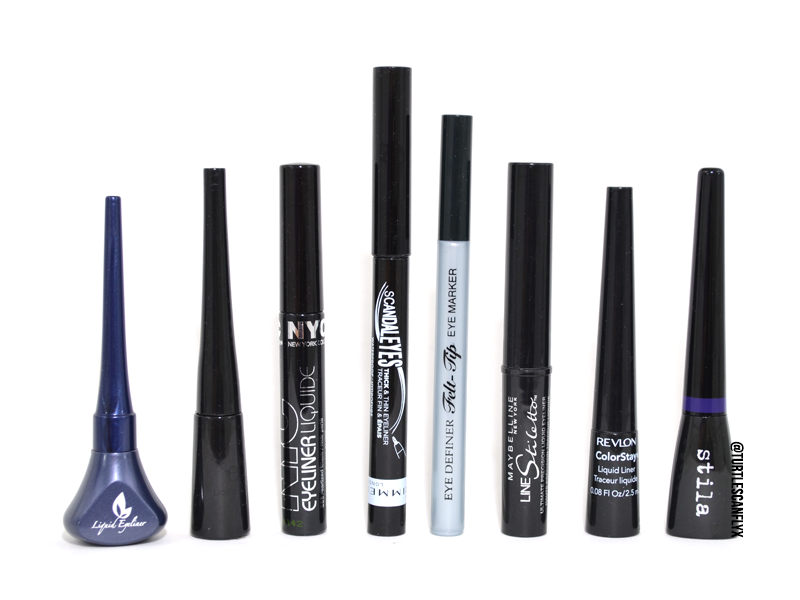 I'm always looking for different liquid eyeliners because I'm a wing-liner type of girl and I just love lining my eyes even when I don't wear any other makeup. I thought it'd be nice to actually compare all of the liquid liners I own and give you the scoop, which are the best and worst. Most of these liners may be found in your nearest drugstore which is always great since that means they're affordable and easy to find for everyone.
Coastal Scents Liquid Eyeliner
Wand is stiff but not hard on the eyes and has a felt tip shape
Nice formula – not too watery or thick. Cobalt is very shiny, however, I'm not sure if all the other colors are like this as well
Brush doesn't allow for such an easy application and sometimes product gets onto lashes
When removing the eyeliner, the product sort of crumbles off & is a bit rough on my eyes
Wear time is average and stays in place throughout the day
Cost: $2.95
e.l.f. Essential Expert Liquid Liner
Formula is very fluid and thin
Wand is similar to those used for nail polish so it allows for precise application
If rubbed the product will come off very easily & sometimes fades after a few hours
More opaque than expected
Cost: $2.00
Maybelline Line Stiletto Ultimate Precision Liquid Eyeliner
Formula is very fluid and thin
Wand is a flexible felt-tip pen that allows for crisp straight lines
When removed, the product crumbles a bit but isn't rough on the skin
Dries quickly and has a semi-matte finish
Cost: $7.99
N.Y.C. Liquid Eyeliner
Wand is similar to those used for nail polish
Formula is thicker than most liners with this type of wand
Sharp application is possible with this wand and formula
Dries quickly and doesn't smudge
Cost: $2.99
Physicians Formula Eye Definer Felt-Tip Eye Marker
Stiff felt-tip pen
The pen tends to be scratchy on the eyes
Easy to use and clean application
Not as "ultra black" as suggested and needs at least two coats for it to be opaque
Cost: $7.99
Revlon ColorStay Liquid Liner
Formula extremely watery and not opaque
Wand is a stiff felt-tip pen that constantly feathers
Messy application because of the feathering
Multiple coats required to even get it to be opaque
Cost: $7.99
Rimmel London ScandalEyes Thick and Thin Liner
Wand is cut diagonally in order to allow thick and thin liner application
The wand is rough on the skin
Painful application because of the wand
This liner formula stains the skin
Cost: $5.99
Stila High Shine Liquid Vinyl Eye Liner
Formula is very thick and sticky
Wand is not the best for this formula causing messy application
The product gets all over the lashes
Glossy finish
Messy removal and stains easily
Cost: $10.00
Overall, my two favorite liners are the Maybelline Stiletto and the e.l.f. essentials liner. These two liners have great formulas and the wands themselves allow for sharp wing liner application. However, if you touch your eye when using the e.l.f. essentials liner it will come off easily but regardless the liner is worth the money. My least favorite is the Stila liner because the formula is just way too thick and causes a horrible messy application. Even when I remove the excess from the wand, the product is just too sticky and hard to apply to the eye.
Another two liners I don't recommend are the Rimmel ScandalEyes and the Revlon Colorstay. The Rimmel ScandalEyes liner is just way too harsh and scratchy to apply to any lid because they're just so delicate. Meanwhile, some strands of the Revlon liner feather off and cause messy applications. The formula of the liner reminds me of watercolor paints because it's so thin and watery. I've bought two of these Revlon liners and tried different methods of application to prevent feathering but to no avail.
Hope this helps, peace to the outt!
-All products were purchased by me-