These two products were sent to me by Born Pretty Store for review. The first item is a fluorescent "lip goss" by Mili in a bright pink shade (#12) and the second item is a lengthening mascara by Balala. Both products are made by Asian Cosmetic companies and Born Pretty Store sells thousands of items from various cosmetic brands. They have free worldwide shipping and even have provided a 10% off code to all my viewers which you may find at the end of the post.
Mili Lip Goss Shade #12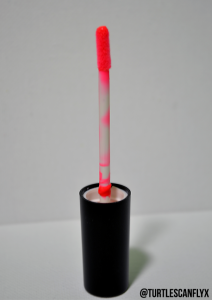 When I first opened the Mili lip goss I was rather shocked since the color was not what I expected from their online swatches. On their website, the swatch for #12 seemed like a watermelon red yet the color in the tube is a neon pink which was a bit misleading. The packaging is a glass tube with a plastic black top which is usually the standard for most lip glosses. The doe foot applicator for this product doesn't have any indentations or unique shape. The applicator is cylindrical and I found it was pretty decent for lining the lips. I do think the stick of the applicator is a bit too stiff for my liking.
Once I applied the product to my lips the color was still extremely neon but it leaned more towards a coral than a pink. I tried blotting my lips and it did subdued the color to a nice soft coral which I thought was much more wearable for me. The "lip goss" doesn't feel sticky at all but it does transfer quickly if you drink or eat.
This requires constant reapplying after every two hours since it transfers so easily. I think I would've enjoyed this product more if the color wasn't as fluorescent and didn't require me to blot to acquire the color I wanted.
Balala Super Lengthening Mascara
The mascara wand in this product is quite different from all the ones I've used before because the wand is extremely tiny and thin. I compared the wand to a regular Physician Formula mascara wand and you can immediately see the huge difference in size. Another difference I found in this mascara was that the formula and consistency reminded me more of a serum. The consistency was a bit more viscous and "goopy" which I was pleasantly surprised to see worked extremely well for my lashes.
This mascara is advertised to lengthen your lashes and for me, it did exactly that with just one coat. I really found that the wand was perfect for getting every little lash and adding extra length to them especially with my bottom lashes. The formula did not flake throughout the day and lasted an extremely long time. When it was time to remove my makeup the mascara came off nicely and I'm happy to say I didn't have experience any allergic reactions to this new formula.
In addition, I noticed that the formula did not clump my lashes and added a lot of definition on top of the lengthening. I found myself reaching for this mascara almost daily especially if I wanted my lashes to look more natural looking. I really enjoyed using this mascara and will continue to use it until it dries out. If you're looking to make a purchase at Born Pretty Store, I highly recommend this mascara.
If you are interested in purchasing anything from Born Pretty Store they have given me a 10% off coupon for all my viewers. The code is TUTH10. They have free shipping worldwide so it's a great store to check out!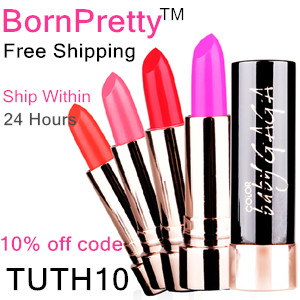 -These products were sent to me for review. Coupon code above is not an affiliate code.-