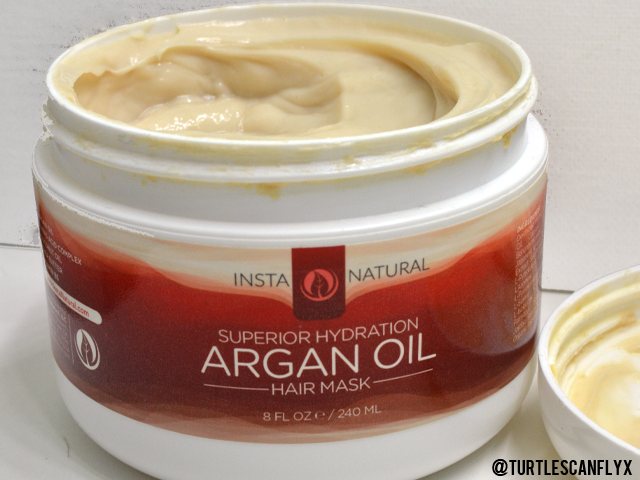 InstaNatural's Argan Oil Hair Mask claims to be a deep conditioning product that contains Argan Oil, Amino Acid Complex, Coconut Oil, Shea Butter, and Vitamin B5. This hair mask is supposed to improve your hair's health by providing moisture and hydration allowing protection from heat styling products. In addition, this product claims to add shine and texture to your hair.
The first thing I noticed when I received the product was how much the tub actually weighed. The tub contains 8 fl oz of product which I think is a good amount for the price. Now once I opened the tub, I immediately smelled this heavy vanilla scent. The scent is really overbearing for me because it's just so strong and very sweet. I was even worried that the product would leave a strong scent on my hair but thankfully, it did not.
To use this product you leave it on your towel-dried damp hair after shampooing and conditioning for 5 to 15 minutes. You can even replace your daily conditioner with this mask, which is what I did for review purposes. I applied the product evenly throughout my hair and adding just extra on the ends of my hair, which is where most damage usually occurs. I left the mask on for roughly 10 minutes and rinsed it off with lukewarm water. As I rinsed the mask off, my hair felt silky smooth and detangled easily. My hair did have a slight lingering vanilla scent but it wasn't as overwhelming as it actually was in the tub.
Overall, I used this product for two weeks straight and noticed that immediately after rinsing my hair felt hydrated and healthier. Nonetheless, I did not see any actual huge changes in the appearance of my hair. My hair still had the same shine and texture it did before I started testing this product. I do have coarse curly hair so maybe I need to leave the mask on for a longer than 10 minutes to notice a huge change or perhaps using it after a conditioner would have helped more.
InstaNatural Superior Hydration Argan Oil Hair Mask may be purchased on Amazon. Click here to be directed to the product's Amazon page. Peace to the outtt.
-Product was sent for review-