Sample Society is a $15 monthly beauty subscription box created by Allure. This box was revamped in July and seems to have improved in quality. The box comes with five deluxe samples, a booklet explaining each product in depth, and a coupon code for $10 off a $50 purchase on Beautybar.com.
As soon as I saw Too Faced's Melted Liquid Lipstick in Sample Society's sneak peek last month, I jumped on the wagon and subscribed immediately. I have been convincing myself not to buy the full sized product since it was released but finally this was my chance to try the lipstick without paying the full price. I was actually pleasantly surprised with this box; before the revamping, most of the boxes were skincare heavy so I was never interested in subbing. However, it seems that they are including more makeup items in each box so they might reel me in longer than expected. This month's box included:
Oribe Surfcomber Tousled Texture Mousse (Value $21.50)
Ciaté Mini Paint Pots nail polish in Cha Cha Cha (Value $8)
Too Faced Melted Liquified Long Wear Lipstick in Melted Peony (Value $8.40)
Jane Iredale Longest Lash Mascara in Black Ice (Value $7.86)
Kate Somerville Dilo Oil (Value $6.50)
Total Box Value: $52.26
Although, I highly dislike nail polish I have to say that the Ciaté Mini Paint Pots nail polish has a lovely color. Cha Cha Cha is a neon shade even though in person it doesn't look as bright in the bottle. I will be passing this along but for those who like bright attention seeking nail polish shades this is the color for you. This sample is really mini, like the name suggests, and the length of the bottle itself is about the same as my thumb.  If I were a nail polish lover, I do not think I'd buy this product because it's just ridiculously small for its price point.
The Oribe Surfcomber mousse costs more than the box itself *thumbs up* and is a travel sized item. I've never heard of this brand before but I'm excited to see how it helps my unruly curly hair. According to Allure, its best to use this product with your hair dried but I mean ya'll know leaving curly hair to dry naturally leads to a mess of frizzyness or what I like to call Mufasa hair. I will try it both ways, wet and dry, and see which gives the best result.
Too Faced's Melted Peony wasn't the baby pink shade I expected but rather a dusty rose shade. This dries quickly on the lips, is not sticky, and has a nice shine to it like a lip gloss. The applicator for this lipstick is unique because it's a sponge tip. I'm not really fond of it since it seems that it would soak up some of the product but besides that, I like everything about the lipstick thus far. This product does come in nine other shades so if you're interested in picking one up but Peony isn't your ideal shade, you do have more to choose from. If I continue to like this lipstick, you can bet I'll be headed to Sephora to buy some more including Melted Berry!
Jane Iredale Longest Lash Mascara is a fiber mascara that is petroleum-free. I've never tried a fiber mascara before but I have heard a plethora of positive and negative reviews which makes me think it's basically a hit or miss kind of product. I do have about ten unopened tubes of mascara at the moment so this mascara will be last in line to be tested. The wand is "normal", dense, and there is no unique pattern to the bristles. The only thing I found interesting about this mascara so far is the packaging since it isn't a round tube-like container.
The Kate Somerville Dilo Oil restorative treatment is a face oil that is supposed to repair the skin, increase moisture, and help with firming. This isn't a product I would willingly go out and buy because I just don't use a product like this in my routine. I have extremely sensitive skin, so I'm picky with my skincare products therefore I'll be passing this product to someone else.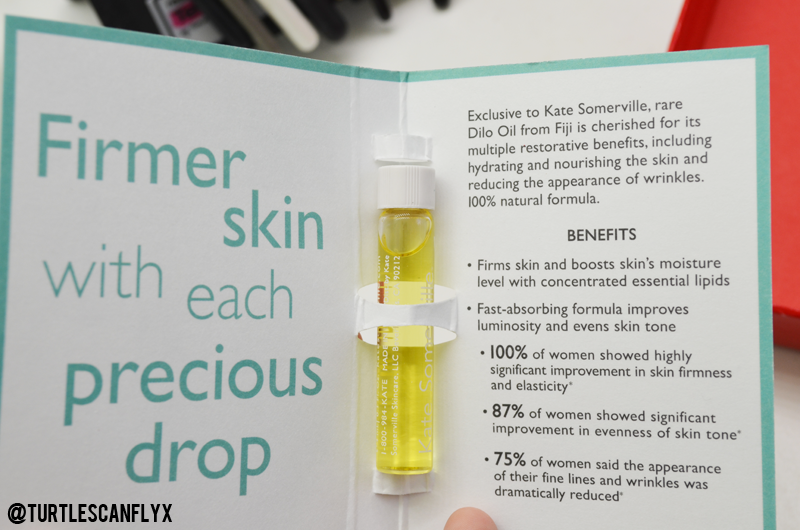 I will be using three out of the five deluxe samples which is pretty good for my first Sample Society box. The total box value is beyond what I originally thought it would be and for someone who likes nail polish and oils in their skincare routine this would have been an amazing "well-rounded" box. I can't wait to see the sneak peeks for September…did I just say September? Time is passing by so fast it's unbelievable but anyways, I'm hoping next month's box turns out to be just as nice as this one or even better. Peace to the outttt.
-Purchased by me-