I was given the opportunity to test out one of the Victoria's Secret Sport Bra in their model called Incredible complimentary thanks to Influenster. I did not have to pay a single penny for the items I received nor did I pay for shipping. (If you want more information on Influenster, check out my previous post here.) Also, by testing the product and writing a review I am receiving a contest entry. Nevertheless, this does not in any way affect my thoughts on the product so just keep that in mind. If you would like to skip straight to the review then keep scrolling to the fourth paragraph. For those of you who want to stick around and read about my overall experience then lets continue. When I received the final e-mail saying that I qualified, I was insanely excited, actually that is an understatement, I can promise you I looked exactly like this: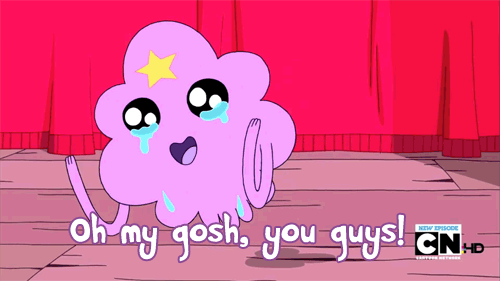 The shipping process always takes about a week or so whenever Influenster sends me something because it seems that their offices are relatively far from where I live. I was going crazy, constantly checking my tracking code online and running to the mailbox whenever the mailman would finish passing by. I eventually learned that the mailman passes anywhere from 11 am to 11:30 am…creepy right?…
Anywho, after a week and a half I received this wonderful box filled with my promised Victoria's Secret goodies. As you can see there was the Incredible Sport Bra, a VSX water bottle, measuring tape, and a 25% OFF coupon. Unfortunately, the coupon had already expired when I received the box but at least my wallet was happy! Anyway, we weren't aware of which sport bra we were given until we received the box AND some people received socks instead of the water bottle. I was really pleased with the color I received and thankful I got the water bottle instead of the socks because I have a million socks in my drawer. So far everything had a thumbs up but it was time to put everything to the test. So ladies and gentlemen put your hands together for the moment you all have been waiting for, here comes the review! *drum roll*
Just by looking and touching this sport bra, you can tell that it is of magnificent quality. It is made out of nylon, polyester, and elastane making it extremely soft and stretchy. One of the details that I love about the aesthetics of this sport bra is that it has a cushioned adjustable back closure just like a normal bra. This makes the task of putting on and taking off the sport bra a lot easier because it allows you more space to move around and the elastic band that runs underneath the chest becomes looser. Unlike this bra, I always found myself having to struggle to put on my other sport bras because their elastic bands are extremely tight due to their "compression" fit. Trust me when I say those sport bras are a hassle to remove especially when I want to avoid getting deodorant stains all over. Additionally, I really like the inside padding that the Incredible Sport Bra has because it provides so much extra support that other sport bras lack. Many sport bras come only in the sizes S, M, L, however, this sport bra does not. Victoria's Secret has outdone themselves and allowed this sport bra to run between 32B – 40DDD providing every woman the chance to find her proper size. Since the size is so precise, this sport bra fit perfectly on my body and reduced the amount of "bounce" during my cardio workout, which included running, jumping jacks, and jump rope. Compared to my other sport bras, I would say that the Victoria's Secret Incredible does a better job at providing support, comfort, and ease of movement. The only issue that I have with this sport bra is that it is quite expensive ranging from $49.50 – $59.50; prices vary depending on the color scheme you prefer. If you can find a good deal for one of these bras when it goes on sale or clearance, or you don't mind paying full price, I would definitely recommend picking this sport bra up. It really does go above and beyond to provide you with everything you want and need in a sport bra. In addition to their sport bra, I own their VS Sport Headband in black which I personally purchased. I really like that headband because it is really tight so all my baby hair stays in place and the rest of my hair doesn't get in my face. So if you're in need of a good headband definitely give them a glance next time you're at the store. The water bottle I received has a nice decent size that could be perfect to take to the gym or to the park. It holds 24oz and guess what, it's dishwater safe! The only downside is that the retail price for the water bottle is $19.50, womp womp womp.  
Hope you all enjoyed this review and will check out this sport bra! If you have any questions don't hesitate to contact me. Remember to follow me on Instagram & Twitter 🙂
-Until next time my dear followers, Peace to the Out!
-Product was sent for review-